College and University Campus Entertainment - Illusionist
Are you looking to inject a unique entertainment experience into this year's University or College Campus Activities?...
...Something interactive and entertaining that will engage your group while providing unbelievable photo opportunities - featuring students levitating in mid-air, getting stuck to their chairs and having their very own articles of clothing disappear while being worn (don't worry though, we keep it very tasteful :)!
Well look no further, the secret is out...
Aaron Paterson's customized (customized in length and content based on your requirements) stage shows combine visually stunning illusion, hysterical comedy, mind-blowing mentalism and audience interaction with endearing personality to create a one-of-a-kind performance that incorporates cutting-edge technology and stagecraft to weave illusion with reality in a manner that truly has to be seen to be believed. Our Campus performances are filled with audience enagagement whereby the audience is just as much a part of the show as the performers!
"The students absolutely loved your show. I've heard so many great things from them since Monday night. I would also like to work together on future events! "
Residence Life Coordinator
Seneca College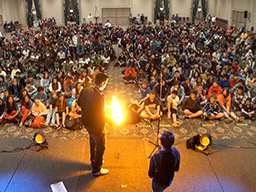 Ask us about how we can incorporate your school into the performance to make it more relevant to your group and create a more custom feel. Heck, we can even make a key person from your school "magically" appear on stage in an unbelievable way!
Not to be overlooked is the fact that we are a 100% proudly Canadian owned and operated company, benefitting you in saving on exorbitant travel costs and exchange rates while being able to offer world-class entertainment to your students direct from Canada for Canada.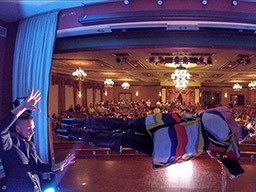 Watch our video sizzle real here for some show highlights and to get a better sense of how Aaron Paterson works in front of an audience. Do to the proprietary nature of a lot of our performance pieces we offer a brief video to give you a feel for the show.
We recommend you visit our Reviews page as a way to help you make an informed decision to book with us. Should you have any questions about our campus performances, feel free to contact us at any time. And remember, we can offer fun filled university and college campus entertainment with universal appeal. In other words something for everyone! Comedy, Magic, Illusions, Mentalism and Audience Engagement!
"Aaron and Elise performed for the OCMA at Fern Resort and it was FANTASTIC! They put on a great show and everyone had a blast! They came prepared and ready to go, which made the night seamless and wonderfully entertaining. Thanks Aaron and Elise :) Can't wait to see you again!"
Maria Sairoglou
The Ontario Colleges Mathematics Association


Aaron Paterson performs Campus Entertainment in Ontario for the University of Ottawa's, Telfer School of Management, at the Alumni Theatre and receives a standing ovation for his performance.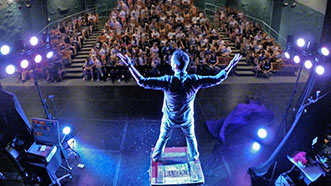 When the University of Ottawa's Telfer School of Management was looking to exceed the success of their previous, annual, college event, they contacted Aaron Paterson Magic.  Aaron was chosen from among many other entertainers due to his track record for success.  Students were treated to some of Aaron's most innovative and visually stunning illusions and comedy and he received an immediate standing ovation following his performance, solidifying Aaron's abilities to customize performances for any age range or demographic.

The alumni theatre staff were a pleasure to work with and incredibly accommodating, helping to facilitate a sophisticated performance with so many moving parts.  

Aaron looks forward to working with the Telfer School of Management on future events.