CORPORATE ENTERTAINERS TORONTO - After Meal
Allow one of the top Toronto corporate entertainers to ensure the success of your next key event!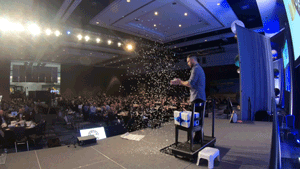 Are you looking to inject something unique into this year's Corporate Function or Special Event? Put this Toronto entertainer's experience to work for you!
Aaron Paterson is one of those rare Toronto corporate entertainers that can deliver a first class performance with the tasteful, reliable professionalism that only someone of his experience could provide. Having performed for the last 15 years successfully for casinos, resorts, team building events, product launches, conferences, trade shows, client events, holiday parties, gala events and just about every other venue available to an entertainer, Aaron found his truly favorite audience in the Corporate Event Market and it seems the Corporate Event Market has found one of its favorite entertainers in Aaron Paterson.
"Aaron's show was absolutely fantastic! His sleight of hand tricks were amazing and his stage show blew us away. At some points, we were laughing so hard we had tears in our eyes and at others we stood with our mouths open wondering, How did he do that?"
Ronald S. Danks
Simpson Wigle LLP
Combining visually stunning magic, hysterical comedy and audience interaction with his endearing personality, Aaron's After-Meal Entertainment delivers the memorable event that will have your guests talking for days after the show and have YOU, the event coordinator, looking outstanding in your company for booking the show.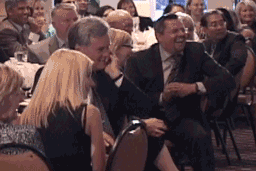 Audience members are the stars of the show, whether they are becoming "stuck" to their chairs or having their jackets and watches mysteriously disappear while wearing them, only to reappear a moment later in the strangest locations.
Imagine your audience's enthusiasm when YOUR company magically becomes part of the show, in one of Aaron's "Company Specific" magic effects. Magic with a message, so to speak! Through the use of state of the art sound equipment, Paterson is able to weave musical interludes into his corporate presentations that accentuate the comedy and magic while adding to the crisp, professional flow of the show.
"Everyone had a great time, there was constant laughter applause and a well deserved standing ovation!"
Maria Galati
Canadian Condiminium Institute-National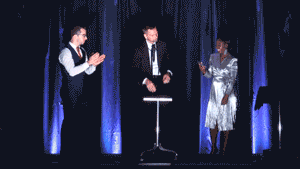 Why have this corporate entertainer's performances become highly sought after for special events and corporate functions in Toronto and all over Canada?
Simple...because of his ability and willingness to identify with a client's particular needs and deliver a customized, polished corporate entertainment experience. Aaron has become successful in this industry because he insists that the show is not about him, it's about the tangible rapport built up between entertainer and audience over the duration of every performance.
"I will highly reccomend you to ANYONE who is looking for this type of entertainment, whether it be company sponsored event or a private function"
Joanne Patience
Equifax Canada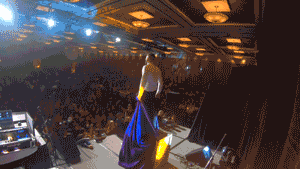 In conjunction with his Corporate Cocktail Entertainment (see Corporate Entertainment Toronto page for details) or as stand alone, After-Meal Entertainment (see demo video on the Toronto Corporate Magician page), you can be confident that you have taken the first step towards a hugely successful corporate or special event by booking Aaron Paterson Magic. Contact us now and book today, before available dates disappear...
"The show was fantastic. Everyone in attendance could not stop talking about it for days. We highly recommend you to anyone that is looking for some great entertainment."
Frank Gallo
Cadbury Canada