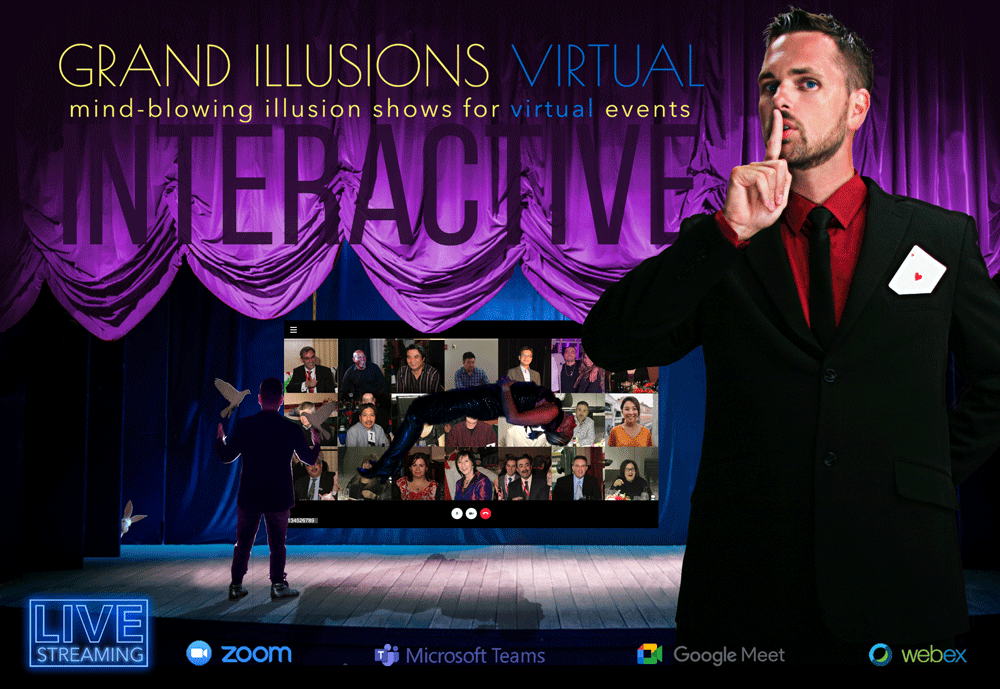 Grand Illusions Virtual Magic Show - Magician and Illusionist, Aaron Paterson is Reinventing Zoom Virtual Performances for Corporate and Special Events in Canada and Internationally
We enjoy performing corporate magic shows live and in person, however due to current government regulations related to Covid 19 there are now limitations on what is possible. Not wanting to disappoint our loyal clientele, in circumstances where live performances are no longer possible, we are offering a completely unique take on the virtual corporate magic show via Zoom - Grand Illusions Virtual featuring Aaron Paterson. This is NOT a magician performing card tricks for a webcam in their living room or a mentalist "reading your mind" while attempting to look mysterious for the camera (not that there is anything wrong with that). Grand Illusions Virtual Magic Show is an experience that must be participated in to be appreciated. In fact we are so convinced in our unique approach that we have spent the last 3 months designing and building a state-of-the-art studio at a secret location in Canada where we are able to livestream to anywhere in the world, to any audience of any size (provided that the viewer has high speed internet). This allows a uniquely intimate approach where viewers get to experience illusion in an unbelievable new format in the safety of their own environment.
"Sincere thanks again for making such a difficult time so memorable to our division members. Everyone was thoroughly entertained and enjoyed the magic and illusions. I continue to hear rave reviews and am sure we'll be booking you again soon."
Physician
Cummings School of Medicine Calgary, Dermatology Division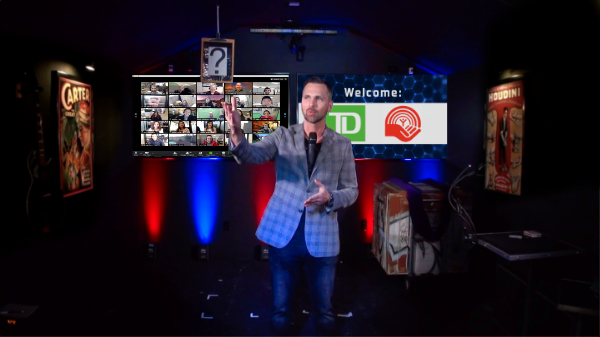 Aaron Paterson recently presented Grand Illusions Virtual Interactive for TD Canada Trust's, corporate Donor Celebration in support of United Way. In two separate shows, hundreds of participants engaged in the experience from across Canada - coast to coast.
Does this mean that we are discontinuing live appearances?
Definitely not, on the contrary actually, we will be ramping them up again when it is possible to do so safely but offering an astounding virtual alternative in the interim when it is more appropriate. In fact if you are looking for a live appearance at a future event in Toronto, Ontario or anywhere in Canada, please see our live performance options here: Toronto Magician for Live Entertainment
This new format allows us to create spectacular experiences, free of limitations of any kind, experiences that only our Cloud based, online packages could allow for.
TOP SECRET TORONTO VIRTUAL MAGIC SHOW:
"We recently hired Aaron Paterson for a virtual Corporate Holiday Party and it was great. Everyone was very pleased with the performance. We would highly recommend Aaron for any in-person or virtual event!"
HR Generalist
Picton Mahoney Asset Management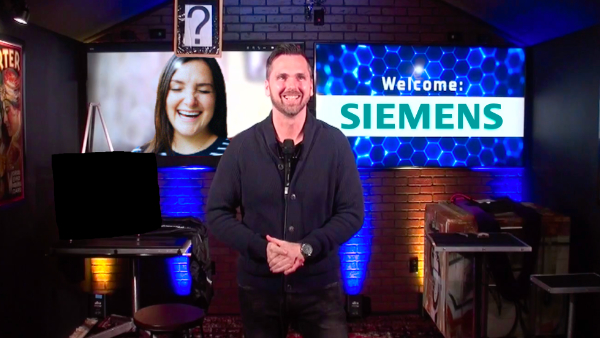 Being that this project is proprietary in many ways we are keeping this experience top secret - we kindly ask you to fill out our short form for further details about our virtual magic show performances. We promise that the little bit of extra effort will be worth it though and will be happy to contact you on how to make your next virtual event a resounding success! Fill out our short form below and be confident that you have taken the first steps in ensuring that your next virtual event is a huge success!
We've already said too much though, please fill out the form NOW and we will contact you right away!
"We were looking for something to take away the winter blues and enjoy time with our co-workers. Aaron and his assistant delivered an excellent virtual magic illusion show. We'd highly recommend his performance. Booking was easy and they had solid follow up to questions and preparations."
Systems Analyst
Golden Hills School Division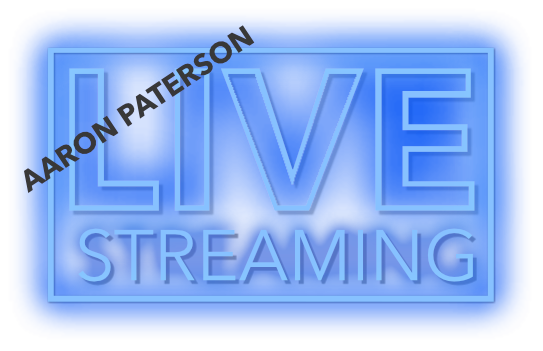 Quick Virtual Show Inquiry Form
PRIVACY STATEMENT: This website uses Secure Socket Layer data encryption (the internet standard) to ensure privacy, any information entered in the form on this page will be used for the purpose of replying to your inquiry and for no other reason.

All fields marked with an asterisk (*) are required in order to submit this form.